Andrea Fuentes is a 4-time Olympic medalist, 16-time World Championship medalist and 16-time European Championship medalist from Spain. She is now the head coach of the U.S. Senior National Team. Andrea and I competed against each other at the London 2012 Olympic Games (but let's be honest, she is in a whole different category of greatness). Her story is so inspiring and shows that if you put your mind to it, you can accomplish things that you never thought possible. I hope you love reading this interview as much as I did.
Andrea at the 2011 FINA World Championships in Shanghai
1) Can you briefly describe your synchro career and accomplishments?
I came from a team that was a nobody in the world: the Spain of 1998. We were 11th or 12th in the world ranking. Nobody was looking at us. Step by step we did a great job with innovation and consistency and had very good coaches. In 2008 we won our first Olympic medals and later two more in 2012. Personally my story is very interesting because nobody expected me to accomplish so much, not even me 😂 so I'm pretty proud of my career as a swimmer. After my retirement at age 29 I started to coach as a choreographer and consultant around the world with my husband Victor (gymnastics and acrobatics coach who specializes in synchro). We have amazing stories with all the countries we visited and all of them are in my heart. Now I'm the head coach of Team USA and it's even better than being a consultant for me.
2) What is the biggest challenge you had to overcome in sport and how did you do it?
For the Beijing 2008 Olympics, the door to swim the duet was only slightly open for me. I discovered that you can do much more on your own than the standard training so I started to find ways to improve much faster. Gemma Mengual was the best one at that moment and was my idol when I was little. I was seven years younger than her but suddenly, I had the opportunity to swim a duet with her. This couldn't have been possible if I had trained as a normal high performer. I had to do much more. So I started to put my dreams into actions - I bought a camera for myself and asked the assistant coach to film us during important parts of practice. At night, after 8-10 hours of practice I watched the videos by myself in slow motion to find all the differences between Gemma and I. I used to write all corrections and goals for the next day in a notebook to remember them and the next day during breakfast I studied in order to arrive to the pool with all the corrections clear in my mind. I arrived one hour earlier and worked extra on my flexibility and extension. I actually grew one inch that year, and I was 25 years old! Every day I was improving much faster than the other swimmer who was considered for the duet. I was finally getting closer to Gemma's level of execution.
After one year like this (passionate and obsessed about improving), we arrived at the Olympics and I was swimming in the duet with my idol by my side and we won the first Olympic medal for our country. That was the first time that anybody got so close to Russia! But you know what was even more rewarding for me? Anastasia Davidova, the Russian duet swimmer telling me on the podium "Thank you Andrea, it's the first time I was afraid to lose and this Gold is the most precious one". Crazy! I was so proud! But not because of the Olympic medals themselves, but because it was the moment I proved to myself that anything I want in life, if I really want it, I will achieve it.
Andrea (left) and Gemma Mengual at the 2008 Olympic Games in Beijing
Silver medalists at the 2008 Olympic Games in Beijing
3) Did you have a mentor or someone you looked up to as an athlete? How did they help or inspire you?
Gana Maximova is the person who made me understand the ART of synchro She taught me how a routine's choreography can inspire generations, how to express your personality with the movements of your body, and how to know yourself deeply without any thought or word, only body language.
My coaches Bet Fernandez and Anna Tarrés made me who I am, and I was lucky to learn from a lot of different and great coaches with very different styles: Mayuko Fujiki, Biz Price, Masayo Imura, Anne Capron, Virginie Dedieu, Gana and Maria Maximova - all of them made me grow as a swimmer and as a person.
The person who made me fall in love with synchro had always been Virginie Dedieu. I think she gave a lot to our sport, innovating and creating the most difficult and extraordinary hybrids ever seen. Her solo of Fukuoka 2001 is the best solo ever (for me). It's another level of choreography. Not over expressed, just art. Of course Gemma Mengual is also one of my faves ;) I feel very lucky to be able to share with her a big part of my career. She was born to do synchro and you cannot imagine how good she is in solo training, even more than competing!
Andrea (right) and Ona Carbonell at the 2012 Olympic Games in London
4) What did you do after retiring from synchro? How did you transition from being a full-time athlete?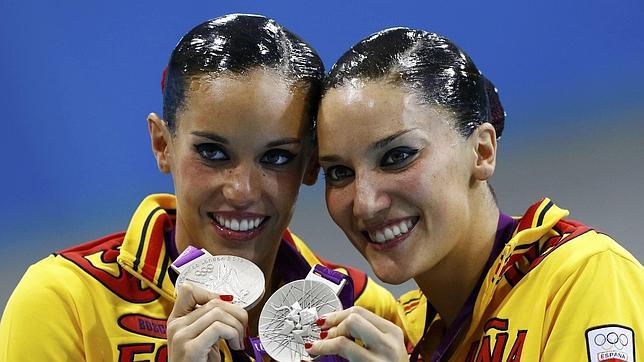 Silver medal winners at the 2012 Olympic Games in London
We have a program in Spain that helps athletes in retirement so I was prepared. I knew that when your identity is so attached synchro it could made me feel small after I retired but I was prepared for everything. I'm a person who can't sit still for five minutes so I think three days later I already had lots of plans for the future. I was excited to start my new life! Víctor, kids, lots of traveling, learning about different worlds, and having new experiences...
5) What do you think is the most important quality in an athlete?
The mind. The body helps A LOT, but the mind can transform the body. In my case it was a mix. I was not the most talented but had a brain and personality that was exactly what is needed for synchro: passion, hard work ethic, consistency, sense of innovation, a lot of willingness to learn from your rivals and wanting to beat them too... I'm very competitive ;)
6) Why did you decide to coach for Team USA?
There was a point where I wanted to start being a real coach and not only a consultant. Consulting is very easy and rewarding, but I was starting to miss the real problems and work as a team to solve them and turn them into opportunities. I wanted to be a part of program with big goals. Suddenly I had offers from three countries and I didn't know which one to choose. I chose USA because I want to give back what synchro gave to me. The U.S. created this sport and now I feel that if I make this team return to the Olympics I will give back to my sport. There is another part of me that love big challenges. It would have been easier to go to another powerful country but I think it's more beautiful to rise to the challenge and help a team reach its true potential.
Andrea competing in the solo event at the FINA World Championships
7) How would you describe your coaching style?
I'm still developing my style. As an athlete I was a person with a constant will to improve. I know for sure that I want to explain to the absolutely everything to the athletes, from "why you are falling on your spins" to "why you are feeling depressed today" or "how you can deal with the physical training this afternoon." I like to treat the swimmers like adults, to empower them. It doesn't always work that way - some people are not used to performing at 100% of their potential if they don't feel a lot of pressure or are in an authoritative system. So sometimes I have to adapt and even if I don't like to train like this I have to act in a more strict way, especially when you have only five months to qualify a team to the Olympics 😂.
Other than that I define myself as a coach who wants to inspire the athletes instead of make them work out of fear. Create challenges between the swimmers, remind them of concepts that are easy to forget when you are tired, like "your rivals are also training right now, so you decide if you want to give up or push yourself to beat them." Of course I want us to have the best choreography and I have the best coach I could ask for by my side (Reem). I cannot say that we are head or assistant coaches. I think that we work as Siamese twins - two passionate and connected heads, thinking, planning, creating and leading for one body - the US Senior National Team.
8) How do you think synchro will change in the next 5-10 years?
I think every year it gets more similar to the aesthetic of rhythmic gymnastics. We are moving to more flexible swimmers, great lifts, and very athletic movements so we are needing more and more gymnastics training not only for lifts, but also for general conditioning. I think weight training is for old school synchro. We need agile swimmers. Men should be much more present and allowed to compete in all events. This is what I wish for our sport!
9) What is your favorite thing about the United States and what do you miss the most about Spain?
I think where we train in the Bay Area, is a great place for me. I love the big urgency of innovation that you can breathe in the atmosphere around here. I have always admired this part of the U.S. and California in general. It's advanced society in a lot of way. From Spain I miss my friends, and Barcelona, my city. But it's ok, I'm fine!