Now that the FINA World Championships are over and our National Team is getting ready for the Pan American Games I need to get something off my chest. Ever since I retired after the 2016 Rio Olympics every time I watch a synchro competition I'm reeeeeally feeling the FOMO, except it's not just the fear of missing out, it's actually missing out!
I want to start off by saying I am SO proud of our National Team. Most of these girls were competing at the Junior World Championships last year and this was their first year swimming at FINA Worlds. But even more impressively, they only trained with their new coaches Andrea Fuentes and Reem Abdalazem for five months and managed to choreograph all new routines and execute them at the high level that they showed at Worlds. For the short time they had together, the results are impressive.
And even though rankings take time to change in synchro, a lot can happen in a year. I mean, Anita and I did the impossible in 2016 when we moved up from 12th at the 2015 Worlds to 9th at the Rio Olympics. So at this point, the Olympic dream for this team is very much alive, in my humble opinion! I can feel their passion, drive, and willingness to do whatever it takes, which makes their journey so exciting to follow.
On the other hand, it's such a weird feeling knowing that the team is preparing for an Olympic Games that I won't be competing at. The upcoming Pan American Games will be the first Pan Ams that I haven't competed in in eight years! And this will be the first Olympics in seven years that I will be watching as a spectator (well, I hope to still be in Tokyo working for my soon-to-be new employer, but you get what I mean). Seeing the "one year out" photos all over Instagram and Facebook yesterday made me miss that excitement of preparing for a competition SO MUCH.
When you are on the national team, all eyes are on you. People care about every competition you go to, send you encouraging messages, and watch your every move. And now that I'm on the outside, I definitely miss the feeling of fighting for something you believe in with your entire being and having an entire country supporting you. I definitely don't regret my decision to retire when I did, but it is tough to not be a part of that community anymore.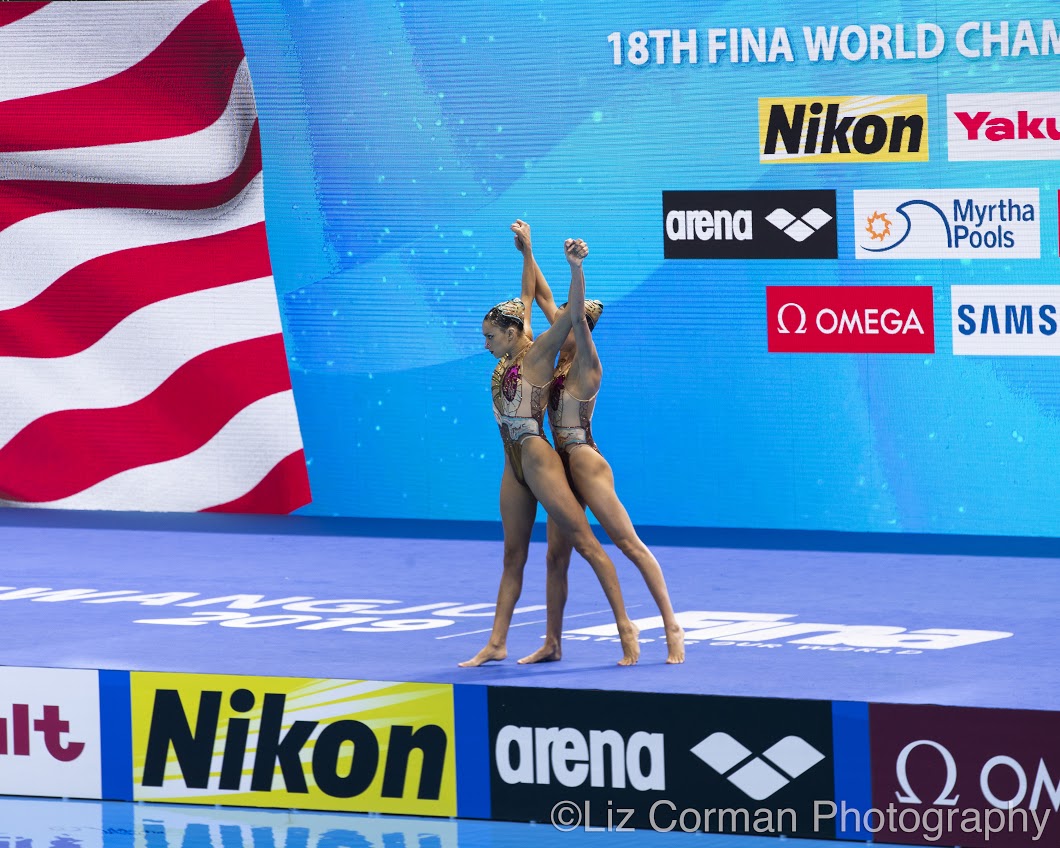 Anita and Ruby's free duet program at the 2019 World Championships
Team USA free program at the 2019 World Championships
The first year after Rio it was difficult for me to even watch the National Team compete, knowing that someone new is in the spot that I was in only a few months prior. I'll admit...it was almost painful to watch the next generation of athletes embark on the journey that I was just on, even though I so badly wanted to just be happy for them. Now that some more time has passed I don't feel those pangs of FOMO as much as I used to. I am more comfortable cheering for the team and supporting them from the sidelines.
Everyone wants to be a part of a team's success, a part of a journey that is filled with passion, hard work, and dedication to a single goal. That's why the team Andrea and Reem are leading is on the forefront of everyone's mind - they are willing to take risks to fight for that Olympic dream and will go above and beyond to make it happen. And even though they know it will be an uphill battle, they still rose up to the challenge that others might have deemed impossible.
I'm so excited to continue following this team's journey, and although I wish I was closer to the action, I know that every bit of energy and support we send to them helps. One of my favorite quotes is "It's not every four years, it's every day," and I know that they are all living and breathing that Olympic dream every single day. I am no longer the elite athlete I once was, but I am living that Olympic spirit right alongside them until they reach their goal of qualifying for the 2020 Games in Tokyo, and I hope all of you are too. Go Team USA!